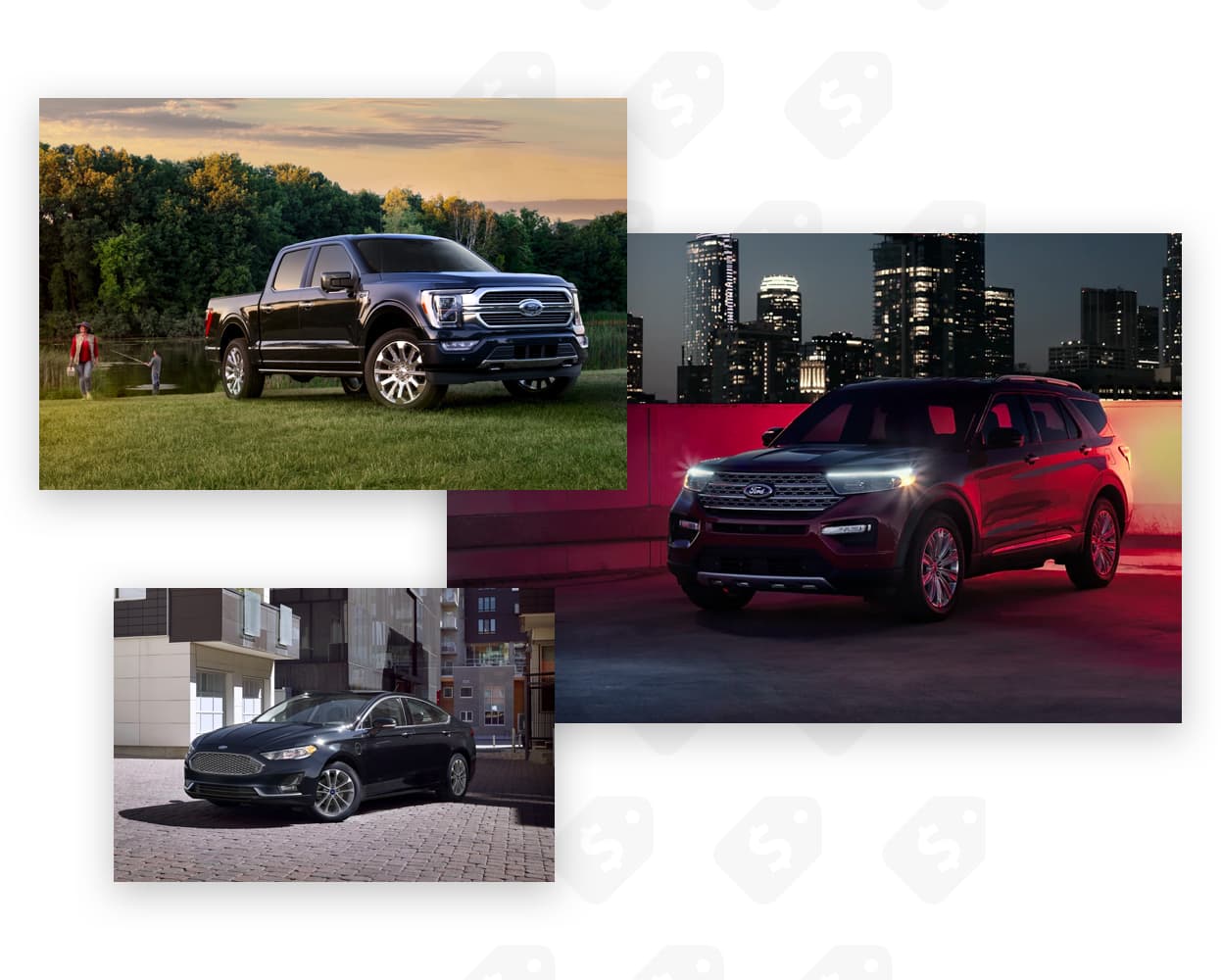 Take Advantage of This Month's Current Offers
Every month Ford releases incredible cash-back offers and special financing rates along with discounts featured in other special programs.
We're Here For You
Ford of Kirkland always puts customers first!
Don't take our word for it: Read our reviews and see what everyone is saying.
Recently purchased a '22 F150 Platinum from Neda at FoK. Very straightforward experience, no high pressure sale. Got a good deal on my trade, too. Would recommend.
Bought my first car from this dealership. Nick did a great job to help me compare the cars I was looking at and answer any questions and concerns. Even went as far as deliver the vehicle while I was at home sick.
Great service and super friendly staff and everything works on time
Staff was friendly and knowledgeable. Service was completed well and facility had good wifi including seating with and without tables so I could work while I waited. After the service the staff offered me a direct contact number for them I could use if I needed to ask questions or contact them in the future.
Had a Great experience here. Shervin helped us in getting our dream car. We are very very happy. He is the best!!!
Just bought my very first vehicle from the Hyundai ford of Kirkland. Thank you Todd, Rich and Siamak. For getting me into a new vehicle. I appreciate everything you guys did.💚🚙🚗🛻💙
I hate going to a dealership to buy a car. I will be less hesitant in the future
The entire team was great. Todd was our salesman he did a great job. The finance man was awesome as well!
I just purchased a 21 Ford Escape and Peter was awesome! He went over everything on the car and took the time to make sure I know how everything worked. I recommend him for anyone looking to purchase a new car!
My overall buying experience was excellent. Nick Miller, Sales and Leasing Consultant was professional, knowledgeable, and low pressure. Darryl Griffin, Sales Manager was thorough and fair through closure of sale.
I arrived late for my appointment and was taken in for the oil change anyway. Thank you
Nick Miller was informative and very helpful with getting me into my new Tesla! He also helped me take photos after I got everything finalized. I enjoyed my expirience even with how busy the dealership was!
We were afraid that the engine light was serious trouble on our 6-year-old SUV. And the service dept. was completely slammed and backed up. When we asked to the sales department to expedite the analysis of the problem, we quickly learned it was time to get into a new vehicle. Despite supply chain issues limiting choices Neda Badiee came through for us and delivered just what we needed with compassion and a fair price for a very nicely equipped, economical and energy-efficient new Escape Hybrid to fit our needs.
Super professional and welcoming. Came to see a used vehicle. xxxx was very helpful and knowledgeable. Really listened to what I liked and wanted, and showed me a few options that might fit my needs. Super happy with my experience here and the finance manager (Blanca) was friendly as well. If you haven't checked these folks out yet, definitely take a look 👍
Good Service Department delivered service exactly as I expected.
I had an excellent experience with Ford of kirkland! I'm following Nima back to Toyota of Kirkland when I bought two Toyota Camry for my sons, he's great to work with, was very responsive, knowledgeable and went above and beyond with any questions or special requests I had! This is my second Ford truck bought from him. He is a no hassle, low pressure salesman and I would highly recommend to friends and family. Was happy to make a deal with Ford of Kirkland and would definitely consider them again in the future.
My experience of purchasing the Maverick was outstanding. We ordered the car in February one were told that it would be delivered in 4 to 6 months. IZ was actually delivered within two months and we were kept informed of every stage go production from order date to completion and delivery.
Nima was a pleasure to work. He is friendly, knowledgeable, and provided us the non-preasured process we needed to evaluate several different cars and brands.
Great experience with the dealership. Nima Mirzaei was professional and prompt in answering questions and providing service.
Drove quite a long distance to look at a specific car. Michael, our salesman, was amazing. With me being unfamiliar with the area, he came along for the test drive and was able to answer all my questions and picked a great route to check out the performance of the vehicle. There were no surprises with the price or anything that we had discussed prior to me making the trip up, which a greatly appreciated. When we had agreed to purchase the vehicle, it turned out there was an open recall on the vehicle, so I couldn't drive it home that night. Michael and his wife, on their own time, drove the car to me when the recall service was complete, saving me another full day of driving to Kirkland and back. Can't say enough good things about the experience, and Tom, the sales manager was also enjoyable to work with!
I ordered my Mach-E from online from Ford and selected Ford of Kirkland as my dealer. The whole experience of ordering the car and picking it from the dealer went super smooth. Steve the fleet manager was really great to work with, he asked me how I wanted to pay for the car and if I needed extended warranty and didn't really push or haggle at all. On the day of pickup, Mo Taha helped me with the transaction, he showed me the car features and let me do a test drive, and took my info to process the sale and finance transaction. While waiting for the paper work I had a great chat with Mo, he has some amazing life experiences to share. Overall, love the car and the dealership made the process go super smooth and hassle-free. Would do business again with them 100%.
Great experience with our visit and the purchase process. I've had numerous experience of car shopping and this was one of the best one. Nima was very responsive and truly no-pressure salesman from the beginning and spend more than enough time with me to find the exact car I want. He made the process very simple, easy and quick. Great job I love my Bronco
I am so satisfied with the service I received again from Ford of Kirkland. Taking my car there really have me worry free.
Excellent as always and a pleasure to take my car to Hyundai of Kirkland every time. Superb clean shop, great atmosphere while you wait for your car to be serviced, repaired and pampered. Chris Zuch and his hard working team take the time to talk with me explaining whatever repairs were needed and how to keep my 2015 Hyundai Santa Fe in mint condition. Good People.
Super excited to get my new Ford Maverick. Great experience working with Dan Lozott and really appreciate his efforts.
Welcome to Ford of Kirkland
It could be our varied and accommodating selection of new Ford models, including the much-loved Ford Escape, F-150, Bronco, Explorer and Mach-E. Perhaps it's our equally vast range of high-quality, Ford of Kirkland-approved used cars. It may also very well be the Ford financing offers available to customers who shop with Ford of Kirkland. With these auto loan and car lease options, shoppers feel at ease, worry-free, and extra satisfied with their purchase. Ford isn't only a place for those in the market for a new Ford car.
We're also the go-to spot for those already behind the wheel. Customers find our car service and maintenance center, also located in Kirkland, Washington, both convenient and competent. It doesn't stop there-- Ford of Kirkland also host an array of services to personalize or enhance your Ford driving experience. Just ask our onsite auto parts and accessories department what we mean. Still not clear about why so many trust Ford of Kirkland for all of their Ford needs? Visit our dealership at 11800 124th Avenue N.E. Kirkland, Washington and find out for yourself!
Contact Us
Ford of Kirkland
11800 124th Avenue N.E.
Kirkland, WA 98034
Sales:
425-284-9514
Service:
425-296-9628
Parts:
425-629-9964
Directions