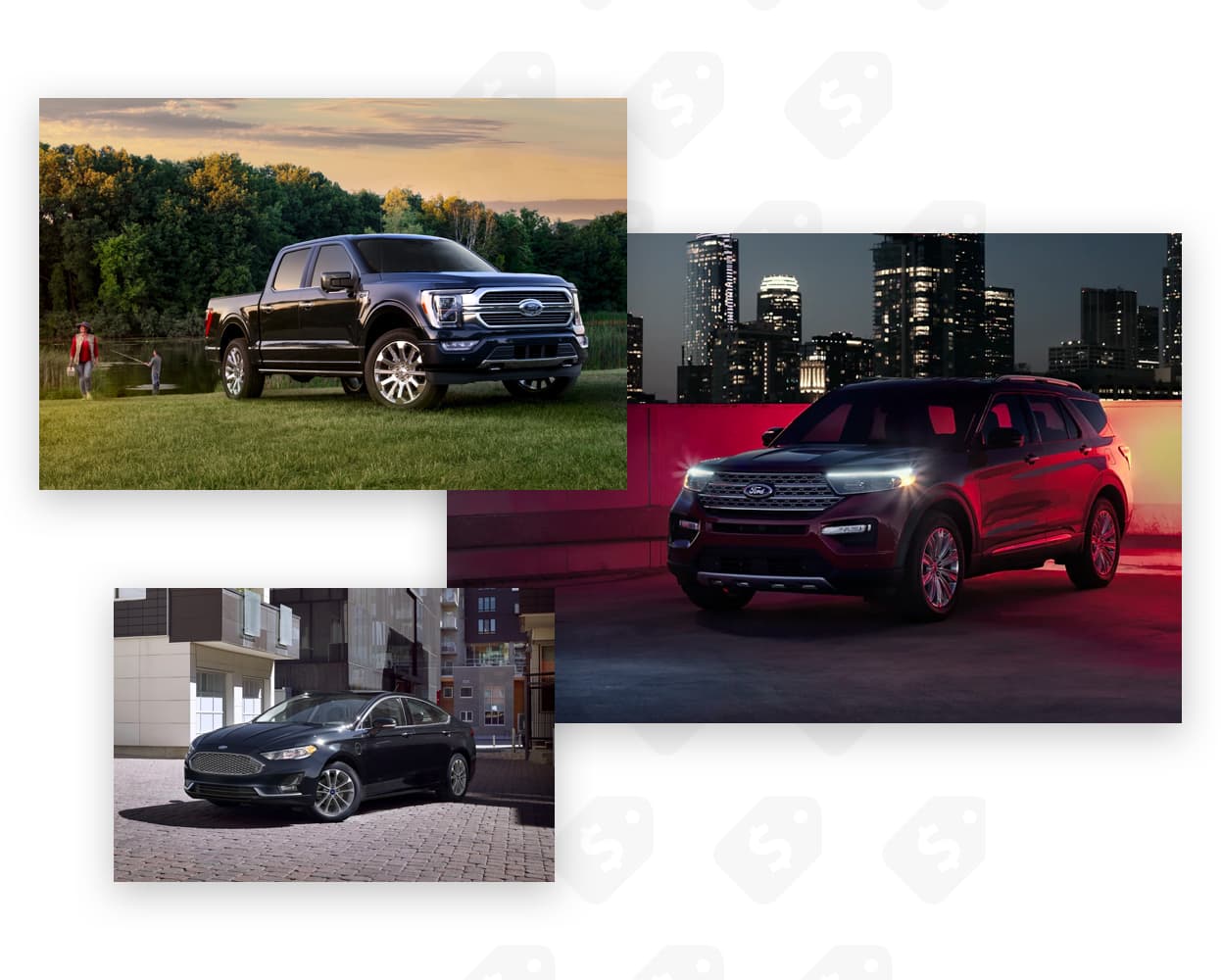 Take Advantage of This Month's Current Offers
Every month Ford releases incredible cash-back offers and special financing rates along with discounts featured in other special programs.
We're Here For You
Ford of Kirkland always puts customers first!
Don't take our word for it: Read our reviews and see what everyone is saying.
Just bought our second Ford at Ford of Kirkland. Great service and very professional. 100% will do business again and refer my friends.
My service advisor was courteous and prompt in the service experience. My truck was serviced quickly and delivered as quoted in a timely matter.
Again, a first cabin experience. Lucky to have you guys in my orbit! Happy to recommend you at my next opportunity!
The service was to repair Recall 229 (Seat Belt Pretension Clips). I was able to easily schedule my service in a timely fashion. The service manager Kenny was extremely courteous, friendly, helpful and professional. The service was done in a very expeditious fashion and took less time than I had anticipated.
We just purchased our second car here a couple of days ago. Great experience! We'd left another dealership and headed over to Ford of Kirkland after being treated terribly and feeling frustrated. Paul Y took care of us and listened to what we wanted- he promised he'd get us into the Audi Q3 we had our hearts set on and he delivered. Even with a few credit issues. Highly recommended!!
Great staff, went above and beyond, didn't keep pushing on the extras when I know I didn't want them and allowed me to take the truck home when we had to stay after hours and one of my cards wasn't going through (Max limit reached) and I was able to write them a check the next day. I was also able to just pop in on a day when my regular sales guy was on vacation and I was well taken care of.
Rick Kim is a very good salesperson. Very responsive and answers all questions immediately and returns calls fast!I appreciated his low pressure and for showing me a number of cars until I found what I wanted.
I had a great experience at this location and service with Nick and team was outstanding. Everyone worked to get my deal done. I highly recommend.
Got great service and was helpful to get the car that I wanted. Was a great experience
A great car buying experience. Nima was an awesome person to interact with and buy our Ford Explorer from. He was not overly pushy or pressured. He was very informative, answering our many questions and explaining our options. We luckily were able to get our vehicle quickly from a recent shipment and Nima worked diligently (on his day off!) to get it detailed and keys in our hands quickly. He was patient as we decided what would work best for us and kept me very informed throughout the buying process. As we were waiting on the paperwork he was very informative and pleasant to talk with to pass the time. My wife and toddler son were with me, and he was also very patient with us. Overall a great experience and I will be sure to send my friends and family to Nima for their car needs!
Geoff and Nick were able to get me approved on my new Charger and got me driving home in my dream car after a couple hours. Thanks guys so much for your help.
This was the best experience that I have ever had taking my car to being serviced and I am 79 yrs. old !Mr. Cielo was very helpful and courteous. He arranged for a shuttle so I could go home while they serviced my car. My car was even finished before they said it would be. The shuttle driver was great. The price for the service was less than I thought it would be... Great job!!
While the diagnosis for my Sante Fe was not what I had hoped for, the process was made easier by the people. Daniel Cielo was knowledgeable and very helpful and along with the mechanics at Ford Hyundai of Kirkland gave me back my wonderful Sante Fe!
After being sent personal videos of cars that met my preferences by Nick, I came to check out and test drive a few of the cars in the lot. Left the same day with a new Hyundai I absolutely love! Nick, Tom, and Nelson were a great team that worked with my budget and even stayed after close to ensure I had everything I needed and felt good about the purchase. Great experience!
Great salesman Lima. Was straight forward and made it easy.
Barry was attentive & easy to work with. The process was stress free & I got the vehicle I had been looking for. Love the truck so far!!
Arrived on a Friday for a scheduled oil change w/ Brad and I had the spare tire on after a flat tire the day before. Inquired about possibly buying new set of tires and made another appt to get them installed. I had a 48 hr shift that weekend and Brad came in Monday morning at 8 AM waiting for me. Waited in the nice lobby and the new set of tires was on by 9:30 I was driving home!! Awesome service and highly recommended! -Vince B.
Found my car on a Thursday afternoon and picked it up on Friday. Roy and Tom made it super simple and offered me an amazing amount for my trade in. The whole deal was done in 24 hours from start to finish and was quick and easy for everyone involved. Top notch guys!
Recently purchased a '22 F150 Platinum from Neda at FoK. Very straightforward experience, no high pressure sale. Got a good deal on my trade, too. Would recommend.
Bought my first car from this dealership. Nick did a great job to help me compare the cars I was looking at and answer any questions and concerns. Even went as far as deliver the vehicle while I was at home sick.
Great service and super friendly staff and everything works on time
Staff was friendly and knowledgeable. Service was completed well and facility had good wifi including seating with and without tables so I could work while I waited. After the service the staff offered me a direct contact number for them I could use if I needed to ask questions or contact them in the future.
Had a Great experience here. Shervin helped us in getting our dream car. We are very very happy. He is the best!!!
Just bought my very first vehicle from the Hyundai ford of Kirkland. Thank you Todd, Rich and Siamak. For getting me into a new vehicle. I appreciate everything you guys did.💚🚙🚗🛻💙
I hate going to a dealership to buy a car. I will be less hesitant in the future
Welcome to Ford of Kirkland
It could be our varied and accommodating selection of new Ford models, including the much-loved Ford Escape, F-150, Bronco, Explorer and Mach-E. Perhaps it's our equally vast range of high-quality, Ford of Kirkland-approved used cars. It may also very well be the Ford financing offers available to customers who shop with Ford of Kirkland. With these auto loan and car lease options, shoppers feel at ease, worry-free, and extra satisfied with their purchase. Ford isn't only a place for those in the market for a new Ford car.
We're also the go-to spot for those already behind the wheel. Customers find our car service and maintenance center, also located in Kirkland, Washington, both convenient and competent. It doesn't stop there-- Ford of Kirkland also host an array of services to personalize or enhance your Ford driving experience. Just ask our onsite auto parts and accessories department what we mean. Still not clear about why so many trust Ford of Kirkland for all of their Ford needs? Visit our dealership at 11800 124th Avenue N.E. Kirkland, Washington and find out for yourself!
Contact Us
Ford of Kirkland
11800 124th Avenue N.E.
Kirkland, WA 98034
Sales:
425-284-9514
Service:
425-296-9628
Parts:
425-629-9964
Directions