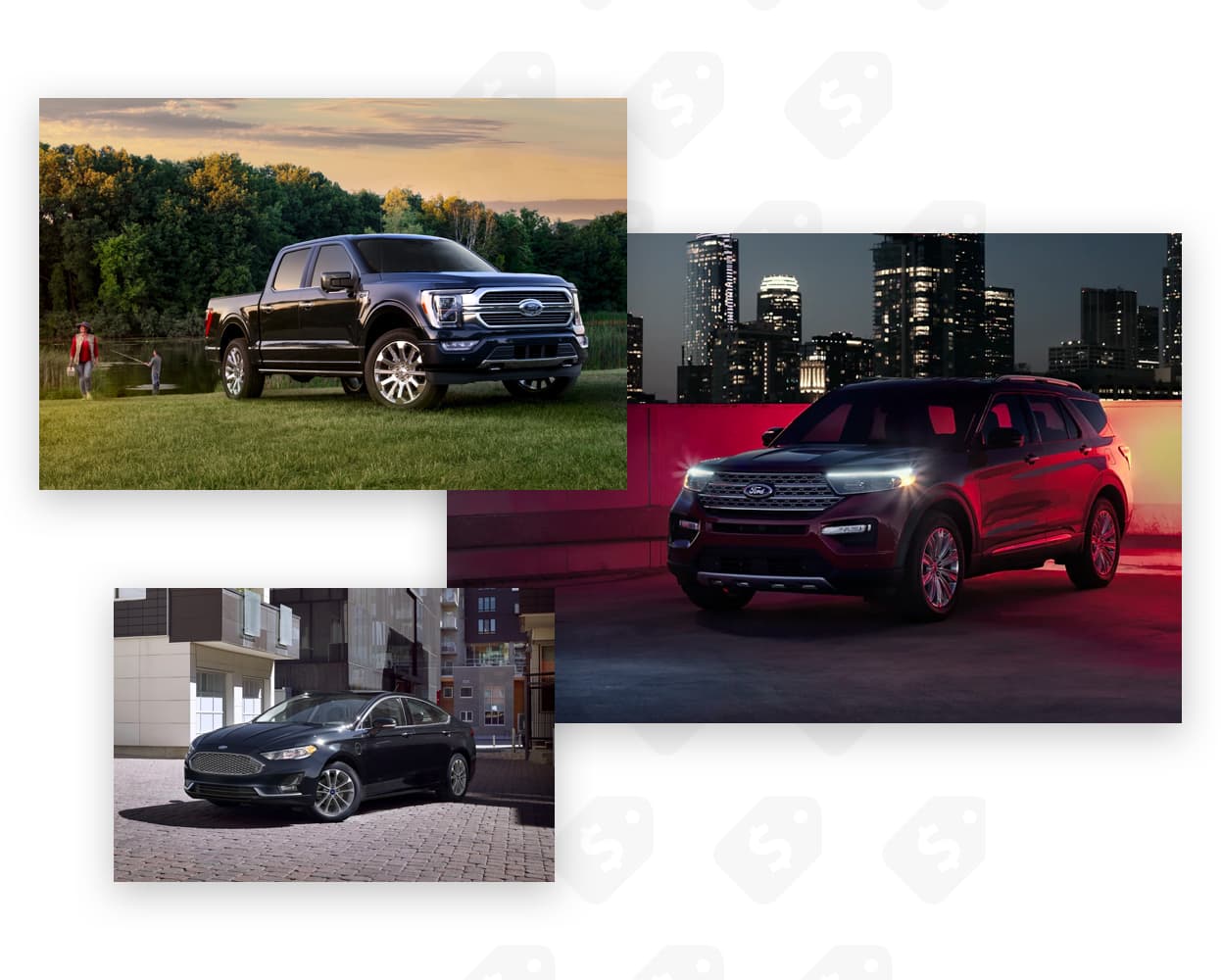 Take Advantage of This Month's Current Offers
Every month Ford releases incredible cash-back offers and special financing rates along with discounts featured in other special programs.
We're Here For You
Ford of Kirkland always puts customers first!
Don't take our word for it: Read our reviews and see what everyone is saying.
I was searching for a 3-row SUV earlier last month and Nathan Turner was very helpful about getting me set up with the Subaru Ascent I had been looking at. It was a very chill and easygoing experience. Would go there again! Thanks again, Nathan!
I was searching for a 3-row SUV earlier last month and Nathan Turner was very helpful about getting me set up with the Subaru Ascent I had been looking at. It was a very chill and easygoing experience. Would go there again! Thanks again, Nathan!
The experience was excellent, I purchased a difficult to find vehicle at a fair price.
Great friendly salesman?very easy process to purchase
I want in Honda Kirkland engency and the guy Kenny Jackson he is so nice
Rich Ewing and Branden dupen really helped me out in buying my truck. Appreciate thier hard work and thoughtfulness.
Purchasing a car can be overwhelming and exhausting, dealing with shady sales tactics and horrible finance officers. I have never had that feeling at Ford of Kirkland. The care is amazing, their customer service was incredible. I have bought 2 cars from them and will continue to purchase in the future, as well as use their licensing department. Nima was my saleman, did a great job. Thank you Nima and thank you Ford of Kirkland.
Traded in my used car for a new Hyundai on the lot. The salesperson was easy to work with and very friendly. They gave me a fair trade-in value for my car. They were able to work around a few set backs I had with securing the money I needed on the day of the sale, making the situation much easier for me. Lastly, the salesperson spent extra time with me in my new car making sure I understood all the controls and tech before I left! He made sure I felt comfortable driving off the lot.
The Ford of Kirkland Sales team went out of their way to make sure I had a great experience when purchasing a Mustang MACH-E. Branden and Barry made sure all my questions were answered and followed up on every inquiry I had about the vehicle and the sales process. After the sale, Noel and Chris followed up with me, took my feedback and rectified any concerns I had with the process. I appreciate the extra effort and attention to detail Ford of Kirkland provided me.
These guys were great. Rich, the general manager, called me to follow up on an inquiry I had made with a salesperson the week before. We chatted about everything, he was super nice, and I agreed to come down that afternoon. Once I got to the dealership, the entire process was streamlined and easy for me. Nima, my salesperson, was awesome. Ali, the finance manager, was a joy to work with during the final stretch of my purchase process. 10/10 from these guys, and that's not an easy score to give out while car shopping!
James at Ford of Kirkland was friendly, helpful and professional. I spotted a Ford Bronco I was interested online i the morning, and James was able to send me home in it that same afternoon. He explained the financing options and showed me how to use the various features of the vehicle. It was a pleasant buying experience.
Went in to trade our 2011 Hyundai sonata for something more reliable. Honestly at first things didn't look too good but Geoff and Adrian were a couple of magicians and by the end of the day my wife and I drove off the lot in a 2014 honda crv, 3 years newer than our previous car and it has all wheel drive! Thank you Geoff and Adrian!! Thank you Ford of Kirkland! When it's my turn for a new vehicle I'll be seeing you guys for certain!! Can't wait to see you guys when it's my turn for a vehicle!
We purchased our 2nd vehicle here, this time with Todd Ireland! Couldn't have asked for a better experience - if you're looking for a new or used vehicle, this is the place and Todd is your guy! Thanks Ford of Kirkland for such an easy and relaxing experience of buying a vehicle!
YOU WILL LOVE THE EXPERIENCE! Working with Ford of Kirkland has been excellent! The sales team is honest, supportive, and purposeful in their approach. Geoff Simons was a joy to work with and made the process fun. His step-by-step communication was helpful and his engaging approach made me feel comfortable - not sold too. Since I was buying the car over New Years' Eve and Day, I was happy that Ford of Kirkland works as a team. Nick Miller was in the dealership early to help me finalize all the details of my purchase along with Thomas Rebek, the sales manager. Nick was up to speed on everything and he was a great listener - as we had some details to iron out. He and Thomas are proactive problem solvers and they worked tirelessly to keep things moving forward (with the paperwork) as we collaborated on putting together a good deal (price and concessions,) to make sure that my wife and I felt comfortable and happy with our purchase. It helps that the used car we bought was in great shape - in fact, it seemed that all inventory (new and used) was triple-checked. I especially liked the transparency and approachability of the whole team. Thomas for example (the sales manager) was hands-on and available at each step of the way, not in some back office. I believe he has cultivated a really caring sales team. No matter with who I came into contact with was very helpful and make a point to genuinely connect with me. This is the kind of experience that really makes you feel happy where and how you buy a car. It is a process where you need people in your corner. You can rest assured that Ford of Kirkland will be there for you. They take care of their customers and I strongly recommend you consider giving them a call. Great Job Team Ford of Kirkland! Thank you, Nick, Geoff, Thomas, and Nina (Finance.) - Eben from Green Lake
Nick and Geoff went above and beyond to find me a car that was within my budget and that's reliable. I'm thrilled with my purchase. I'll definitely come back here for my next purchase!
Honestly look no further for a place to buy your next car and definitely use Nick Miller at Ford of Kirkland - he and the team supporting him exceeded my expectations.. I walked on the lot "looking" at used pick-up trucks not 100% certain what make and model I really wanted. Nick Miller knows his trucks. After that visit, and test driving quite a few different makes and models, I could make an informed decision on what I wanted. He knew exactly what I wanted and what my budget was - and he did everything he possibly could to find me a super clean F150 FX4! 4 weeks later he found one. He even drove to pick me up during an ice storm when I couldn't get out of my driveway to test drive that perfect find for me that showed up on the lot that day! He's truthful, knowledgeable, and a real go-getter on your behalf. Rich Ewing his manager was super efficient and supportive to make the deal go through quick and Blanca in finance was super buttoned up and efficient. Also made sure I'd get a copy of the 171 pt inspection by putting it in writing for me. While I was standing outside another employee walked by and asked if I got my truck- I said yes and he said I'm happy for you! Really nice culture at this dealership I've bought and sold my fair share of cars in my lifetime - Nick Miller should be your first stop in the car buying process.
Experience could not have been better. They were perfect in every way very happy with my deal and the salesman, sales manager, and titling folks.
Just bought our second Ford at Ford of Kirkland. Great service and very professional. 100% will do business again and refer my friends.
My service advisor was courteous and prompt in the service experience. My truck was serviced quickly and delivered as quoted in a timely matter.
Again, a first cabin experience. Lucky to have you guys in my orbit! Happy to recommend you at my next opportunity!
The service was to repair Recall 229 (Seat Belt Pretension Clips). I was able to easily schedule my service in a timely fashion. The service manager Kenny was extremely courteous, friendly, helpful and professional. The service was done in a very expeditious fashion and took less time than I had anticipated.
We just purchased our second car here a couple of days ago. Great experience! We'd left another dealership and headed over to Ford of Kirkland after being treated terribly and feeling frustrated. Paul Y took care of us and listened to what we wanted- he promised he'd get us into the Audi Q3 we had our hearts set on and he delivered. Even with a few credit issues. Highly recommended!!
Great staff, went above and beyond, didn't keep pushing on the extras when I know I didn't want them and allowed me to take the truck home when we had to stay after hours and one of my cards wasn't going through (Max limit reached) and I was able to write them a check the next day. I was also able to just pop in on a day when my regular sales guy was on vacation and I was well taken care of.
Rick Kim is a very good salesperson. Very responsive and answers all questions immediately and returns calls fast!I appreciated his low pressure and for showing me a number of cars until I found what I wanted.
I had a great experience at this location and service with Nick and team was outstanding. Everyone worked to get my deal done. I highly recommend.
Welcome to Ford of Kirkland
It could be our varied and accommodating selection of new Ford models, including the much-loved Ford Escape, F-150, Bronco, Explorer and Mach-E. Perhaps it's our equally vast range of high-quality, Ford of Kirkland-approved used cars. It may also very well be the Ford financing offers available to customers who shop with Ford of Kirkland. With these auto loan and car lease options, shoppers feel at ease, worry-free, and extra satisfied with their purchase. Ford isn't only a place for those in the market for a new Ford car.
We're also the go-to spot for those already behind the wheel. Customers find our car service and maintenance center, also located in Kirkland, Washington, both convenient and competent. It doesn't stop there-- Ford of Kirkland also host an array of services to personalize or enhance your Ford driving experience. Just ask our onsite auto parts and accessories department what we mean. Still not clear about why so many trust Ford of Kirkland for all of their Ford needs? Visit our dealership at 11800 124th Avenue N.E. Kirkland, Washington and find out for yourself!
Contact Us
Ford of Kirkland
11800 124th Avenue N.E.
Kirkland, WA 98034
Sales:
425-284-9514
Service:
425-296-9628
Parts:
425-629-9964
Directions